Eco-Kids
We are constantly inspired by the ideas and efforts of our nature-saving heroes. Send us your nature-saving stories and you may be the next hero featured!
Youth Advisory Committee (YAC), Foster City, CA
Foster City Youth Advisory Committee (YAC) is made up of 15 middle and high school students who serve as the voice for teens participating in various philanthropic events as well as an advisory board for all teen related matters that affect Foster City, CA. This year, YAC decided to dedicate their signature Spaghetti Feed fundraiser event to SaveNature.Org. Thanks YAC for your dedication to conserving the environment!
Eco-Kid Spotlight
Lexie van der Graaf (right) and Olivia Nitoglia (left)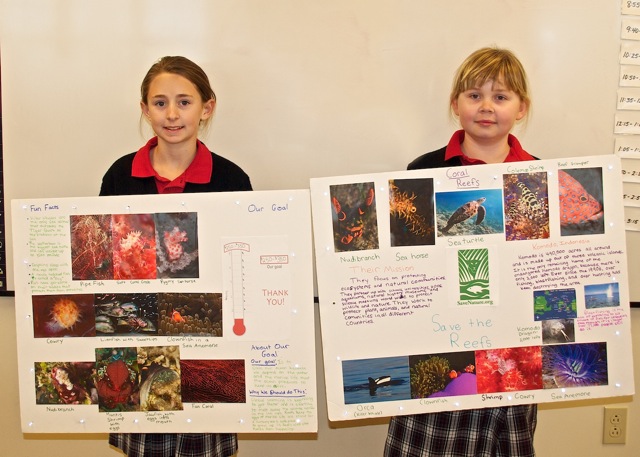 Lexie, a 5th grader at Saint Catherine's of Siena School in Laguna Beach, California was inspired to make a difference when she learned that coral reefs were being destroyed around the world. Lexie knew she needed to start protecting them or they would be gone forever, and that's exactly what she did with the help of her friend and classmate, Olivia. They spent their recess time working on an educational science project researching coral reefs and sites that needed saving. They decided on SaveNature.Org's Adopt A Reef program in Komodo National Park, Indonesia.
The following weekend they made educational posters and presented them to their class. Their outreach efforts were successful among their classmates for they raised twenty-six dollars to donate to conservation on their first day! Their project ran for five weeks to raise awareness among their school community. To date, they have raised $1,570!
Lexie and Olivia said "We hope we can do this every year because we both know that the more we earn the more these reefs will be saved for others to enjoy". We thank you for sharing your enthusiasm and stewardship for the preservation of biological diversity!
Habitat destruction is the greatest threat to wildlife today. Wildlife and wild places cannot survive without the preservation and protection of habitat.
news and events
shop for nature
Discover t-shirts, books and special offers from our partners!